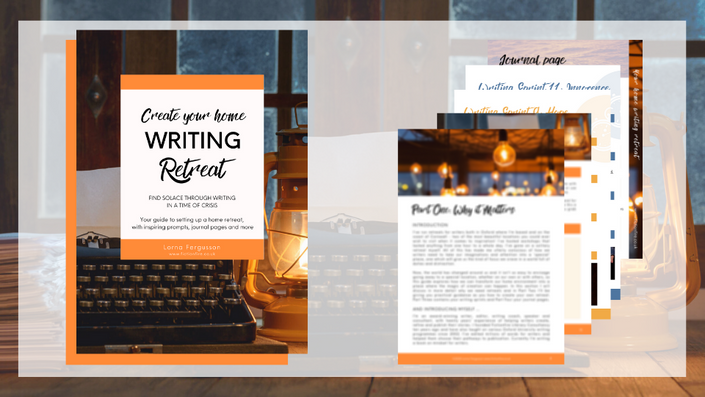 Create your Home Writing Retreat
Set your imagination free by designing your inspiring creative haven. Guide, workbook, prompts and journal pages.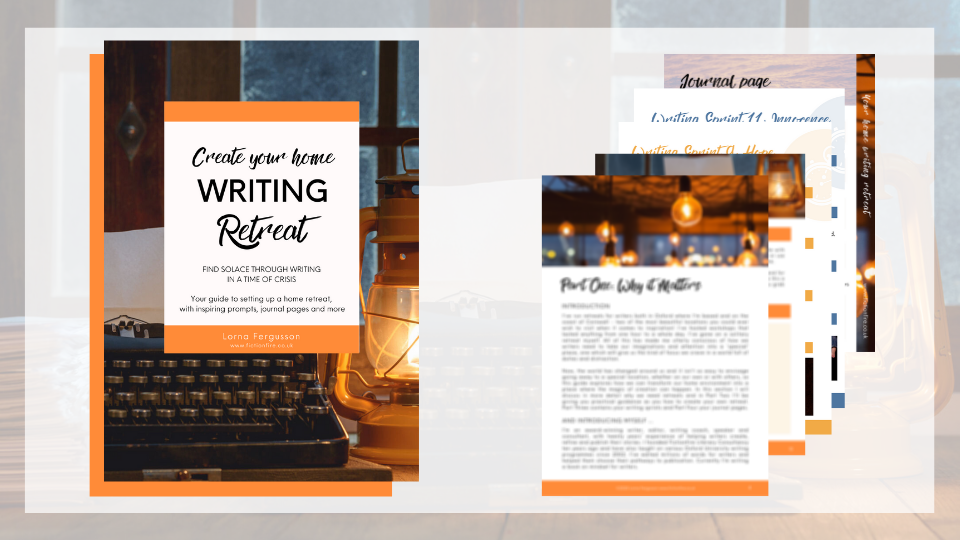 Is the current world climate of stress and fear getting to you?
Are you desperate to get back in touch with something truly positive and life-affirming?
Do you want to express yourself but feel paralysed by all that's going on right now?
Can you rediscover your creative voice in spite of it all?
Set your imagination free - even in lockdown ...
Hi, I'm Lorna Fergusson, writer, writing coach, editor and founder of Fictionfire Literary Consultancy. In March when the pandemic began, I decided to start running free monthly online writing retreats. Writers who attended messaged me to tell me how much it meant to them to come together in this way during the coronavirus crisis.
They said the retreats were
"inspiring"
"uplifting"
"therapeutic"
However, not everyone has good internet access. Time-zones can cause problems. And we don't all feel comfortable taking part in online meetings.
So I've decided to complement my online retreats with a self-study mini-course. It's a resource you can use at home, at any time.
Create your Home Writing Retreat will help you rediscover your creativity - and after all, creativity is a form of self-care. 'Be kind' is the mantra of these times of turmoil. Being able to set your imagination free and put your thoughts and feelings into words is one of the best ways of being kind to yourself. Writing helps you make sense of life. It can be a safety-valve, a soap-box, an escape into a world you control.
Creativity is a form of self-care ...
Creating your custom-designed writing retreat at home will give you respite from anxiety, a chance to get back into the writing habit, the freedom to explore your ideas and the satisfaction of flexing your wordcraft. A creative time-out like this will inspire and energise you, helping you to cope with 'real' life with renewed positivity.
Here's what your mini-course contains:
An illustrated 53 page guide and workbook. Learn how a retreat will benefit you and how to design your own home retreat - one that's just right for you and your circumstances. The workbook has useful printable sections so you can plan the elements that work for you.
A set of 14 inspiring writing sprints, each with a positive theme, for you to print out
Within each sprint you'll find 8 writing prompts, making 112 prompts in all
A set of specially designed journal pages for you to print out so you can record your responses and experiences during the sprints
A bonus module: Create your Writer's Prompt Box. If 112 prompts aren't enough, learn how to have an endless supply to hand, so that you never run out of ideas in the future!
Announcing a new bonus: every time I run one of my free online writing retreats, I'll add the writing prompts we used to the course. Bonus Writing Sprint Packs #1, #2 and #3 are already up! You now have 20 sprints and 160 prompts to choose from. As you'll have lifetime access to the course you'll continue to receive updates and additions.
Key benefits of choosing Create your Home Writing Retreat:
You'll accentuate the positive. Being able to take time out to write compensates for the draining effect of stress. You'll detach yourself for a while from the anxious and troubling dialogues going on in the world right now. Switch those voices off and your inner voice on.
You'll find consolation. Every theme I've chosen for the sprints is an uplifting one (though the stories you write don't have to be!)
You'll be inspired. The prompts will trigger images, conversations, scenes, characters and plotlines in your imagination. You may start with something really small, some seed of story, but who knows where it will lead you ...
You'll be in charge. You are the designer of the perfect retreat for you. I'll make suggestions and give you pointers, but the workbook is intended to help you put together the elements in a way that's personal to your needs and preferences.
You'll be energised and revived. Through the workbook you'll learn how to mesh your dream of a retreat with the reality of your daily life. You won't be ignoring the demands of work or family obligations, but building your writing sessions into your routine in a realistic way. Instead of feeling stuck and frustrated, you can retreat into your writing space, a space where you'll know new stories are waiting for you ...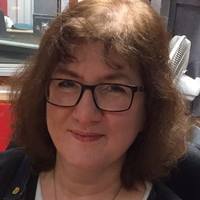 "Lorna Fergusson combines experience, wisdom and authority with a gentle, nurturing manner to draw the best out of every kind of writer, from beginner to professional, through a combination of positive, upbeat prompts and a calming manner - the perfect therapy in our bewildering times."
- Debbie Young, author and retreat attendee
Your Instructor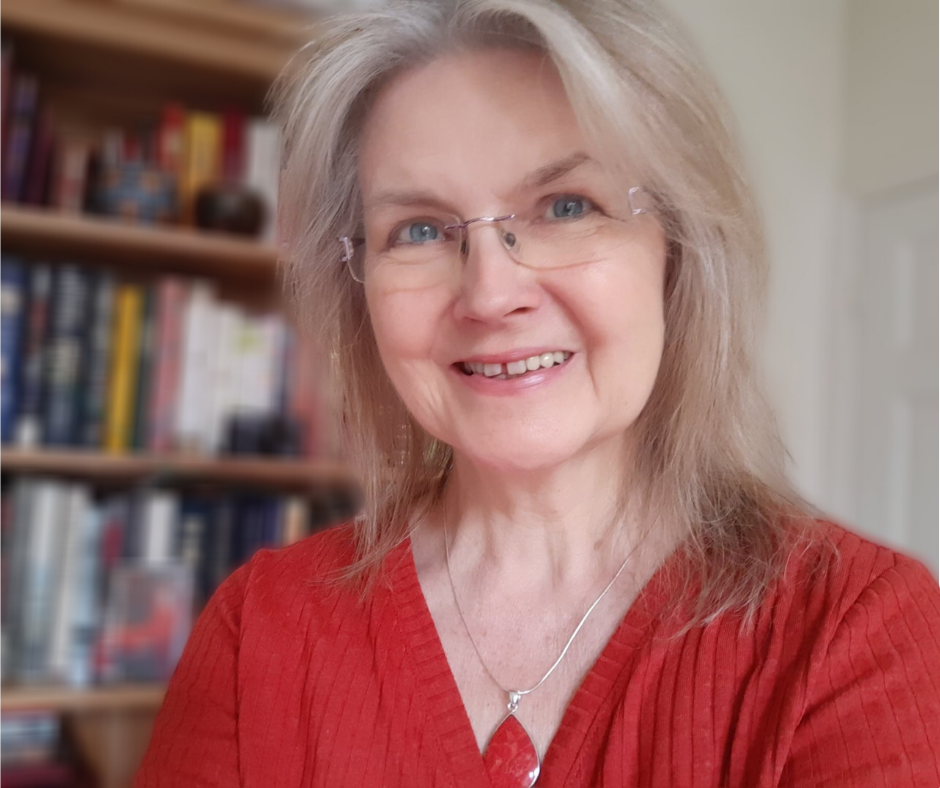 Lorna Fergusson is a novelist, award-winning short story writer, editor, speaker and writing coach who has run Fictionfire Literary Consultancy since 2009. Apart from her own day courses, workshops and retreats, she has also taught on various Oxford University writing programmes since 2002. One of K.M. Weiland's top recommended editors, she is currently working on a book on mindset for writers. You can sign up for pre-publication news and sneak peeks and you can contribute to making this book as helpful as possible by taking her short anonymous survey. You can also visit her author site.
Frequently Asked Questions
When does the course start and finish?
The course starts now and never ends! It is a completely self-paced online course - you decide when you start and when you finish.
How long do I have access to the course?
After enrolling, you have unlimited access to this course for as long as it is available - across any and all devices you own.
What if I am unhappy with the course?
It matters that you are happy with the course. If you are unsatisfied with your purchase, contact me in the first 30 days and I will give you a full refund.
Who is this course for?
Create your Home Writing Retreat is for all writers, whether they're beginners or more experienced.
What about the price and digital sales tax?
IMPORTANT: if you live in the EU, digital sales tax will be added to the price, at the rate applicable to your country. This is a legal obligation. You will see this price when you click to make your payment.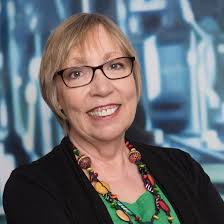 "Whether you are a writer or would like to be one, you may often have hankered after going on a writing retreat. Of course, right now you can't go anywhere, so why not take advantage of this great opportunity to create your own writing retreat? Full of inspiration and writing prompts, it's sure to get those creative juices flowing."
- Clare Flynn, author and retreat attendee
Your creative haven awaits!